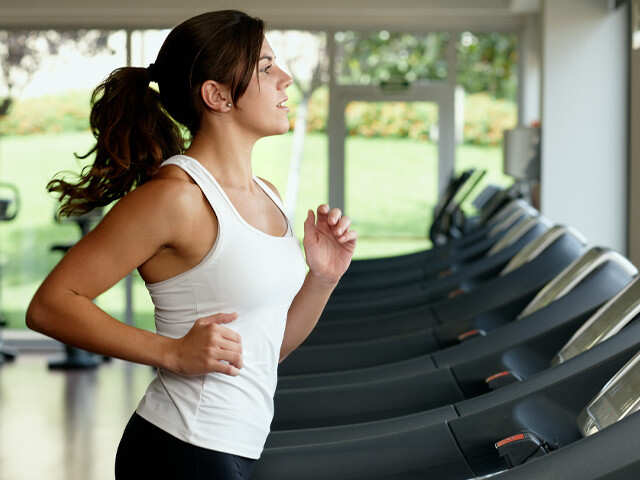 There are benefits to jumping on the treadmill, especially when you don't want to lift heavy weights or go road running in the harsh weather. Throw your headphones in and get on the treadmill to burn some calories with these five easy treadmill workouts shared by the experts at Myprotein India.

High Intensity Interval Training (HIIT)

Image: Shutterstock

HIIT is the option to go to, to burn the most calories in the shortest amount of time and is designed to improve your overall cardiovascular strength.
Technique
Split your workout in to working and rest periods.
Ensure your rest is equal to or slightly shorter than your working period.
An example would be 20 seconds of hard work followed by 10 seconds of rest.
The catch lies in the high intensity, so make sure you hit a sprint pace.
Low Intensity Steady State (LISS)
Image: Shutterstock


LISS is the easier option if you do not feel like HIIT will apply to you for any reason. It might take a little longer, but you will see similar results and as much as a sweat.
Technique
Vary the difficulty of a brisk walk or slow run.
Use lower speeds to keep it steady.
Vary the incline without using Hill Climbs to amend the difficulty.
Hill Intervals
Image: Shutterstock

Hills are the concentric movement patterns that help in losing weight quickly in a short interval and also strengthen our muscles for further strenuous workouts.
Adding hills to your workout can increase your calorie burning capacity. Walking energetically or running at an incline can burn more calories per minute.
Technique
Start off with a slight incline to warm up.
You can use the hill settings on the treadmill or determine your own.
Vary the inclines to maintain a challenging workout.
Increasing Intervals
Image: Shutterstock
A great way to introduce interval training and workout your capacity while burning calories in the process.
Technique
Start off by selecting a resting walking pace.
Splitting your workout into intervals. You will use the walking pace for 60-90 seconds.
Start by matching the walking pace but increase your running sections each time.
You can finish sprinting or with a heavy jog.
Enter The Fat Burning Zone
Image: Shutterstock

While using the treadmill, we should work out in our fat-burning zone. It will help lose weight and burn more calories.
Technique
Calculate the maximum heart rate which is the number of heart beats per minute and the burning zone will be 70% of the heart rate.
You can get to this target by briskly walking or a steady run over time.
Start slower and steadily increase the intensity.
Each treadmill will have sensors to monitor your heart rate if you don't have access to heart monitors including watches or straps.
The treadmill can be seen as a pretty boring piece of equipment, but these variations will spice up your cardio sessions and help you lose weight. Two birds, one treadmill.
Also read:
5 Light Workouts You Can Do In The Summer Heat