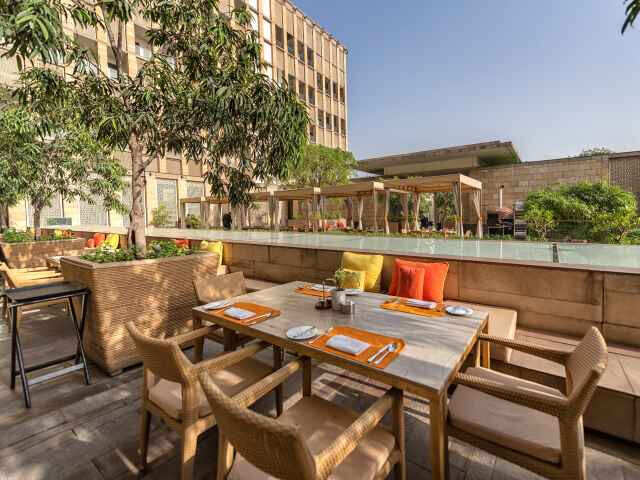 Food enthusiast and traveller Rupali Dean comes to the rescue if you forgot to book a romantic meal for Valentine's Day

Want to break that cliché of romantic dinners? Or simply forgot to make a reservation? Or, really, a last-minute date came through? Lunches and dinners are sure to be all booked out and oh so overly done… Here are the best breakfast, brunch and high tea places in Saadi Dilli to profess your love in a special way!

Breakfast At Élan, The Lodhi Delhi
Focusing on fresh and seasonal menu options, Élan offers an extensive range of flavours from across the globe. Overlooking lush lawns, the patio area is one of Delhi's premium alfresco dining destinations. The picturesque setting (main image) makes for a great spot at which to charm your beloved over a romantic gastronomic rendezvous with extravagant a la carte offerings. Do not miss ordering the Bircher Muesli with Grated Apple and Hazelnuts; it's one of the best this side of the Matterhorn. The French Toast with Seasonal Fruit Compote, Ricotta Cheese and Honey is equally divine, as is the Bagel with Cream Cheese, Onion and Capers. Round it all off with a cold pressed orange juice or a deep red beetroot juice and the excellent coffee.


Breakfast At Colocal Cafe, The Dhan Mill

This artisanal chocolate cafe is a hidden sanctuary in the peaceful lanes of Dhan Mill Compound. With interiors that transport you to French streets, patio seating with Victorian furniture, and lavish foliage lit up beautifully with sunlight, this is the perfect place at which to woo your beloved over breakfast.

Recommendations go all out for the breakfast bowls (above), avocado bruschetta, pancakes, waffles and definitely the croissants. Do not miss a Campfire Hot Chocolate from the in-house bean-to-bar chocolate factory; trust me: this is the icing on the cake.
Brunch At Syrah, Hyatt Regency Delhi
Set the mood for a fuss-free date afternoon with your significant other in an appealing poolside setting in the stunning alfresco area with pleasing music. The blue interiors - reminiscent of the bright streets of the Middle East - set the tone for a casual but stylish dining space; while the spice wall brings to mind the spirit of the lively spice bazaars.


Syrah's USP is its menu that features energising salads, alluring grills and extensive mezze platters (above). The Hummus Beirut, made with pureed chickpeas, tahini paste, lemon juice, garlic and parsley, is a must-try. The Falafel is another hot favourite. Don't forget to end on a sweet note with Um Ali – a pastry dessert made of crisp butter dough, milk, nuts and whipped cream.
Brunch At Iskate By Roseate, Ambience Mall Gurgaon
Go beyond the usual and take your beloved to India's biggest rain-or-shine enclosed ice-skating arena. ISKATE By Roseate crafts a dreamlike set-up for you to celebrate your love. Go for the three-course set menu in a private dining area and, if you really want to go all out, you might be able to get a private booking of the pitch as well as an ice-skating session for two. You can also get a photo souvenir along with a special Valentine's Day gift, all at Rs 5,000.
Early Lunch At Megu, The Leela Palace Delhi
Push the boat out for an early lunch at one of the World's 50 Best Discovery Restaurants in the city. Contemporary Japanese restaurant Megu's chic and classy interiors are tranquil and make for a wonderful place at which to celebrate the day of love.


Decorated with antique silk kimono fabrics with design elements from ancient Japanese culture, Megu's Kimono Room (above) is an exclusive and much-sought-after private dining space. Do try the Shi Rae and, if you are going in for the package including the sparkling wine, remember to carry back a souvenir too.


Tea Time At Ladurée, Khan Market
Each pastry at Ladurée has a beautiful colour and appeals to both the eye as well as the taste buds, with flavour choices that you won't find anyplace else. Each of Ladurée's creations has a definite attitude, from the Saint-Honoré to the Ispahan (for Valentine's Day, you can order a heart-shaped Ispahan for two), the millefeuille to the famous macarons. The specially-curated three-tier platter includes two glasses of wine, two macarons, tentation pastry, marshmallows and sandwiches… Perfect, no?
High Tea At Mister Chai, Shangri-La's Eros Hotel Delhi
Fancy an elegant tea restaurant that gives you a local 'tea shop feel'? Head to Mister Chai! The emphasis is on provincial Indian street food in a contemporary and plush setting. Antiquated and beautiful elements such as the full height, gold leaf-etched timber Tibetan prayer wheels and the intricate screen of planter boxes offer one privacy from the main lobby. The salon cocoons a winning masala chai action station and a delicious range of pastries exhibited in jewellery boxes, which further underlines the effortless drama of a date here. Recommendations go all out for the Tapri Ki Chai, Bombay Sandwich, Samosa and the Classic Vada Pao.


Also see: Drive From Delhi Towards Romance