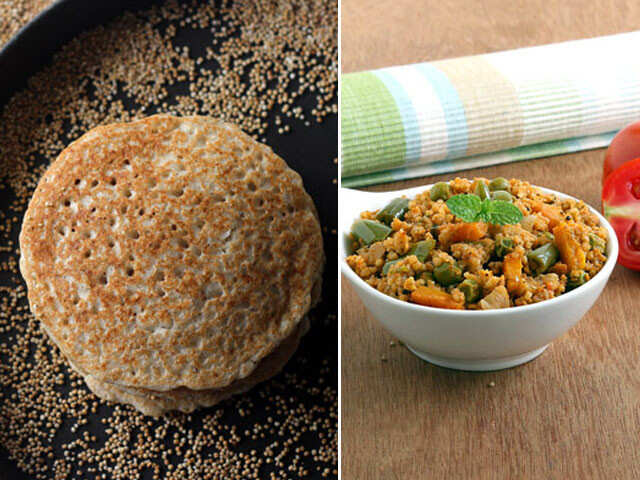 Millets are amongst the oldest cultivated grains in the world, with ragi, jowar, and bajra having been consumed by Indian households for centuries now. The mighty millets have a distinction of being grains that are good for people AND the planet.

The supergrains are packed with proteins, carbohydrates, and fibres. In fact, ragi contains three times calcium than any other cereal. Jowar, on the other hand, is a gluten-free grain and the amount of antioxidants in the grain is about three to four times higher than that of other wholegrains, making it a super immunity booster.

And yet, we don't talk about these incredible grains enough. They are easy to make, taste yummy and do not need a complete overhaul of one's existing recipes. Meghana Narayan and Shauravi Malik, co-founders, Wholsum Foods Pvt Ltd and Slurrp Farm, share some of their favourite, tried and tested ways to incorporate millets into your family's daily routine.

Idlis
Image: Shutterstock
Steaming
idlis
for breakfast is definitely the recipe for a great day. Unfortunately, what most of us don't realise is that rice-based idlis can make one feel lethargic since they are carb-heavy. The next time you are craving
idlis
for breakfast, substitute rice with ragi – it's a power-packed meal guaranteed to keep you full for longer, while satiating your cravings.
And the best part? You can make idlis with most millet varieties, which means that you can experience a 'new' idli every time you make it.
Biryanis/Pulaos
Image: Shutterstock
Foxtail millet is the second most widely grown millet in the world and is an easy substitute for rice. The powerhouse grain is loaded with good calories and a diet including foxtail millets is known to help improve glycemic control and reduce insulin, cholesterol and fasting glucose in type-2 diabetes patients. Try using millets as the central ingredient the next time you prepare a pulao – we're confident you won't be disappointed!
Pancakes
Image: Shutterstock
What if we told you that you can add millets to your staple Sunday pancake breakfast? AND that it will taste just as yummy as the pancakes you usually eat?
Switch your regular flour with any millet-based flour (foxtail millet, amaranth, and
bajra
are our top picks) and you'll have an absolutely delicious (and guilt-free) option for your lazy weekend breakfasts.
Cakes
Image: Shutterstock
Yes, you read that right! Millet-based cakes are incredibly easy to make and are the perfect way to satiate your sweet tooth without worrying too much about the impact of the dessert on your health.
Instead of refined flour or
maida
, you can use any millet flour like finger millet, foxtail millet or pearl millet as per your liking and taste, and enjoy a wholesome, delicious and guilt-free indulgence at home.
Chapatis
Image: Shutterstock
Lastly, small changes add up! Amongst the easiest ways to incorporate millets into daily life is by cooking chapatis with 50% whole wheat flour and using millet-based flours like ragi flour or jowar flour for the remaining part of the dough. Chances are that you'll find yourself getting so used to the supergrain that you'll want to eventually switch to chapatis made entirely of millets. So, what are you waiting for? Try a millet chapati for your next meal.
Also read:
Low On Protein? Add Chickpeas To Your Diet In These Interesting Ways