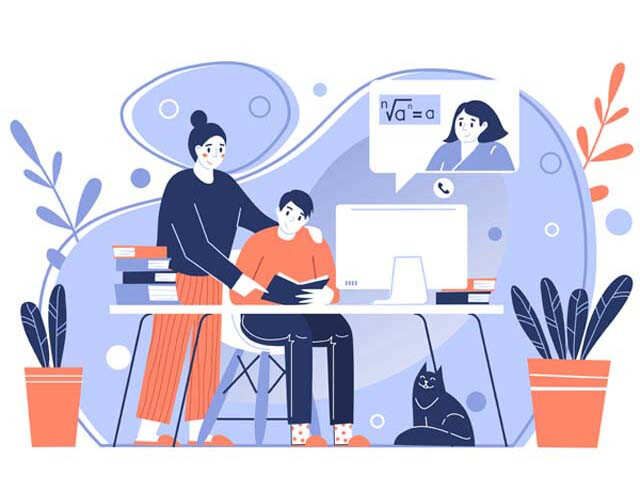 With the new normal for schooling being flexible – one can opt for in-person or remote learning –, the traditional back-to-school basics have changed. Instead of shopping for backpacks or going over bus schedules, your children will need to learn how to join an online class session or log on to their school's learning management system (LMS). Here are a few tips for helping young learners get ready to go back to school in a virtual or hybrid classroom.
Designate Space
Instead of opening up the whole home for the school, having a designated place the child can study from, helps the child immensely. It can be arranged as per the child's schooling needs. A proper table and comfortable chair, mobile or laptop to take the online classes from, proper electric connections for the charger, space to keep books and stationery, space to do the classwork and homework… Keeping all this in mind, designate a space that will aid the child. You can do up the space in brighter shades – with colours or decor to make it lively. You must also ensure the area is distraction-free. This will help the child separate the home from the school at the end of school time.
Learning The Digital Deets
Understanding how the apps and websites that the child will have to use to be able to attend the school through is essential for both parents and children. Knowing the different features – like muting/unmuting, raising hands, putting the video on/off, adjusting sound settings as also video settings, and other such aspects that can help the child get the best experience while learning.
Image: Shutterstock
Keeping Proper Connectivity
Earlier, the internet connection at home was only required for mostly recreational purposes, and a bit of work – homework for kids, or some research for adults. Now the internet at home is a basic need to ensure study and work can be done smoothly. A top quality internet service, with a higher bandwidth that supports videos and long-duration usage, is a must. Keeping this in mind, keeping the school space for the child near the Wi-Fi router or access point is a good start. Ensuring you have an alternate source of the internet – WiFi, Ethernet cable, hotspot, etc – will ensure there isn't any discontinuity that might hamper class time.
Balancing Screen-Time With Away-From-Screen Time
While schooling happening online, a certain amount of screen time has become a must for children, ensure that the child spends some time away from any form of the screen every day. Getting the child involved every day in some physical activity – even if done at home – will help the child remain fit and healthy. You also need to ensure that they take part in some extra-curricular activities too, besides school. Holistic learning – through school and extra-curricular activities – will aid the student in getting a rounded education.
Also Read: Ensure The Right Learning System For Adolescent Children

Subscribe to our YouTube channel