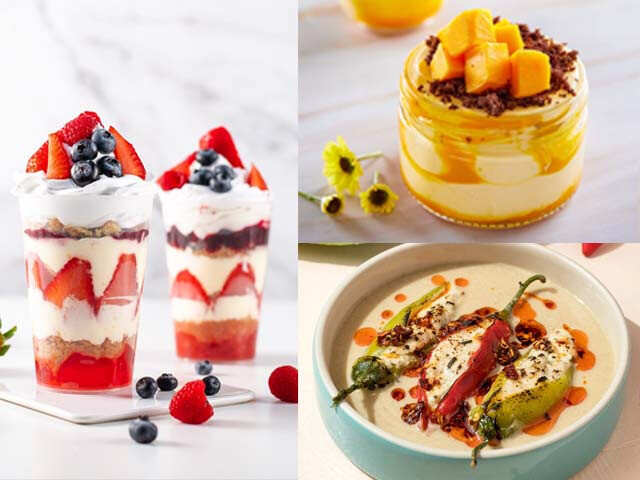 Mumbai is not called Maximum City for nothing – even its foodie treats are phenomenal

Desserts In A Glass From Strati
Newly-launched comfort dessert brand Strati brings you ready-to-go desserts in a glass. 'Strati' means layers in Italian; each of the creations is a dessert glass with layers of delicious goodness. And bonus for the planet: the glasses are 1,500 micron, eco-friendly, reusable and recyclable.

Founded in March 2022, Strati comes from Shruti Arya, who also runs the premium patisserie and confectionery The Pink Rosette. Choose from different flavour choices including Crema Banoffee, Biscottie Crema, Caramello Caffe, Cioccolato Grand and Frutti e Panna, made at a premium home-based confectionery.


More: Strati, 1, Mistry Mansion, 107, MG Road, Mumbai 1. Also available via Zomato, Swiggy and Thrive. Prices start at Rs 300. Watch out for the launch of the Bandra outlet and smaller glasses starting at Rs 250.

Summer Special Menu at Cafe 49
The all-day diner in Juhu is showcasing seasonal fruits on its new menu in fresh and delicious combinations, from indulgent smoothie bowls to unique mango chilli mocktails.


Highlights include Mango & Fresh Cream Cake, Layered Mango Cream Cheese & Chocolate Fudge, Fresh Mango Tart, and Mango & Fresh Cream with Rose Garnish. Also on the menu are Mango Chipotle Bonbons, Mango Chocolate Parfait, Mango Coconut Mousse, Raw Mango Cilantro Hummus and the Pink Mango Mocktail.


More: Cafe 49, The Emerald Hotel, Juhu Tara Road, Juhu, Mumbai 49; prices start at Rs 245

Summer Menu at O Pedro
Goa is the place to be in summer, but no worries if you can't get to the Sunshine State yet. O Pedro, the Goa-inspired bar and restaurant at BKC Mumbai, has a special menu of easy-breezy summer dishes and delicious drinks for both vegetarians and meat and seafood aficionados, made with the season's best produce.

Vegetarians will enjoy the Smoked Eggplant Hummus (inspired by Goa's famous eggplant pickle made with burnt red chillies, mustard and toddy vinegar), Breadfruit Dan-Gar, Pedro's Cheese Toast, Pumpkin San-Sav, Summer Rice Bowl (featuring summer-time favourites like green and dried beans, smoked corn, black olives and sun-dried tomatoes drizzled with a zesty lemon-basil cream), and end with the Goat Cheese Cake, served with fresh mango coulis, candied pistachio and toasted cookie crumbs. All to be washed down with heady tipples such as Vasco Sour, Kokum Stings, and Not A Bloody Mary, as well as non-alcoholic concoctions such as Honey-Sesame Iced Americano, Tropical Sunrise, Pedro's Pear Punch, Watermelon Fizz and much more.


More: O Pedro, Unit #2, Ground Floor, Jet Airways-Godrej BKC Building, BKC, Bandra East, Mumbai 51. Also available for home delivery on Thrive, Zomato and Swiggy

Mmmangolicious Menu At Balsa With Chef Karishma Sakhrani
Balsa's limited-edition mango menu, curated by Chef Karishma Sakhrani, is a celebration of the king of fruits.


Expect dishes such as the Spicy Thai Mango Avocado Salad (a perfect blend of peppery arugula, mixed herbs, mango, avocado, toasted cashews and coconut chips, with a herbaceous green dressing), and Pulled Jackfruit Tacos (soft tortillas, chipotle jackfruit, guacamole, sour cream and mango pineapple salsa). The Poké Bowl brings together black rice, chilli lime mango, edamame, kale, carrots, creamy peanut butter dressing and roasted peanuts, while the Fried Chillies + Mango Habanero Sauce has whole jalapeños stuffed with a special blend of cheeses and chillies, blistered in mango and fresh habanero sauce. Don't miss the Asian Bhel and end your meal with the Sticky Rice Mango.

More: Balsa, Utopia Gate 4, opposite Smaaash Go Karting, Kamala Mills, Lower Parel, Mumbai 13

Summer Brews at Drifter's Breweries
Drifters has launched two new mango brews along with a hybrid of lager and ale beers to match the flavours of the season.


Infused with alphonso mango and ideal for summer days, the Mango Mosaic Pale ale is a medium-bodied beer with fruity aromas of guava and mango, passion fruit, and the subtle sweetness of mango. The energising and flavourful Mango Wit is a full-bodied, creamy wit brewed with a generous amount of ripe alphonso mangoes. The addition of fresh fruit adds a tropical flavour and a revitalising aroma to the brew. Also on the menu is a Kolsch (German-style), a hybrid beer of lagers and ales. Crisp, delicate and very easy to drink, it is light in colour and has a malt character.


More: Drifters Tap Station, Shop no 1, Ganga Jamuna Sangam Building, 24th Road, Linking Road, Bandra West, Mumbai 50. Prices start at Rs 630+ taxes for 1,000 ml

All-New Summer Menu at The Bombay Canteen
The new menu at The Bombay Canteen showcases summer ingredients in reimagined regional classics with refreshing flavours, curated by Executive Chef Hussain Shahzad.

Expect to experience the finest of summer produce like ripe tomatoes, bael (Bengal quince), brinjals, amaranth and petha (ash gourd) transformed into bright, flavour-forward dishes. A chilled 'Rasam Vada' inspired by the flavours of Andhra Pradesh and Tamil Nadu but interpreted as a cold clarified rasam served with a medley of tomatoes and crunchy, cheesy black garlic vadas. A crunchy Summer Greens Patta Chaat with a dollop of pickled dahi; warm, smoky Baingan Chokha, and a whole lot more, including a Baked Brie topped with pickled Bhavnagri chillies, toasted cashew nuts and fennel nippattu for crunch. And, just so you can have the most mango-tastic experience, the restaurant has sourced the finest varieties of luscious mangoes from across the country for the "Not Your Aam Experience."


More: The Bombay Canteen, Unit-1, Process House, SB Road, Kamala Mills, Lower Parel, Mumbai 13. Order online on Thrive

Disclaimer: All content for information only. Femina cannot be held liable for any dispute arising thereof

Also see: You'll Love These Easy & Healthy Desserts From MasterChef Pankaj Bhadouria