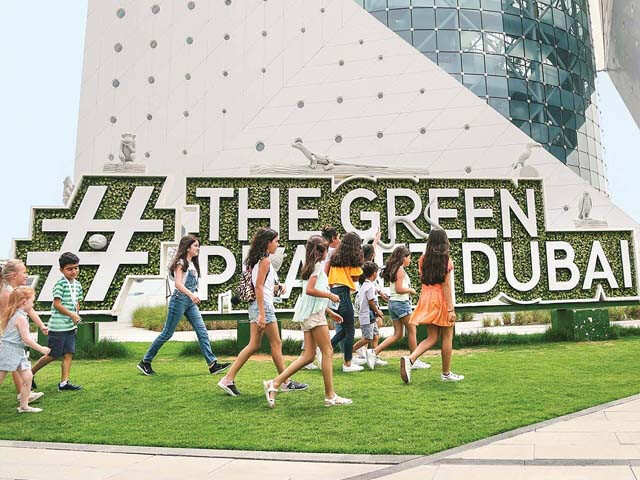 Dubai is a favourite destination with Indian travellers and these new experiences will add new excitement to your next visit

1. Engage With The Natural World
The Green Planet
is an invitation to appreciate the preciousness of our world's oldest living ecosystems. Located at City Walk, Dubai's distinctive educational and recreational bio-dome allows you to immerse yourself in the tropics within an enclosed ecosystem. The enchanting tropical forest hosts over 3,000 plants and animals, including birds, reptiles, monkeys, bats (living in the region's first bat cave) in a seven-storey origami-style glass building, built around the world's largest indoor manmade and life-sustaining tree. Start your experience at Level 4, set over 30 metres above the ground, which cocoons many species of birds and the bat cave; the canopy forms the roof of the rainforest, absorbing most of the sunlight and diffusing rainfall. Slowly descend through the biome; Level 3 – The Mid Storey – has trees with large leaves in order to absorb any sunlight filtered down through the canopy; this is where monkeys and reptiles flourish. Level 2 – The Forest Floor – is humid, dark and quiet; barely any sunlight reaches the floor and the red footed tortoise is at home here.
Perfect for an educational and fun day out with the family, The Green Planet will inspire you to learn about and truly care for Earth's fascinating flora and fauna.
2 Explore Dubai's Rich Art Scene – In A Totally New Way
The Theatre of Digital Art (ToDA) – a multi-sensory, multimedia immersive art exhibition – is the first art initiative in the UAE that combines multiple forms of digital art including classical art exhibitions, contemporary immersive installations, and art in virtual reality. Created with the support of Vision Multimedia Projects GmbH, the European digital production house in 2014, this entertainment hub in the middle of Souk Madinat Jumeirah aims to offer you a 360° immersive experience using state-of-the-art technology.



Immerse yourself in masterpieces from the world's most notable artists and contemporary digital creatives. This is the place where you can see the best of the art of the future, a place where you can express yourself, think out of the box, explore and enjoy. ToDA aspires to make complicated new concepts simple – especially when it comes to new media.
3 Treat Yourself To An Authentic Emirati Stay
Traders once brought commerce and tales of adventure to Dubai Creek, and
Al Seef Heritage Hotel
located on the south bank of that ancient port is your gateway to an exploration of the Emirati culture to be found in the area's winding alleyways and embankment. The hotel is set in the heart of Al Seef, the city's iconic heritage district, and, as an extension of the neighbourhood with its bustling souks and effervescent energy, makes a perfect base from which to immerse yourself in Emirati authenticity.
Expect to stay in a room in a
bayt
(traditional Arabian home), one of only 10 spread among the district's rooftops and courtyards. You will feel as if you're staying in your own traditional trader's home, with wooden beams, rich fabrics and curated details reflecting the area's history. Enjoy being pampered by renowned Arabian hospitality and delicious food (the best of local and global cuisines) and indulge in cultural experiences such as oyster pearl opening, henna tattoo art and breakfast on a dhow – which will give you a real sense of Dubai's roots. In a city of glitzy high-rise hotels, Al Seef Heritage Hotel is a link back to the mystery and magic of 'Old Dubai', offering an understanding of the city's past and an appreciation of its present. And plenty of amazing photo ops for your 'Gram.
4 Indulge In A Made-For-You Fragrance
If you love fragrance, you deserve a perfume just for you! Make it happen with a session at
Oo La Lab
, in which you immerse yourself in the art and process of perfume making. The lab was established by Dan Terry (AKA Terry Jacobson), self-confessed olfactory evangelist and indie perfume creator, to empower consumers to take back control of their sense of smell from the clutches of mass marketing. The group Chemistry of Oo workshop in Al Quoz is a sensorial perfumery experience that will give you insights into creating your own scent wardrobe and crafting your own ritual fragrance that will evoke character, mood and context. Or choose a private session with a mixologist who will help you design your own bespoke eau de parfum in a 50 ml glass bottle with your custom label. You can also access the NOTES collection from Oo La Lab to twist, tweak or tease your existing perfume faves, remixing your classics to make them more the moment, and more you.

5 Bring Home A Unique Loungewear Collection
If you've spent two years lolling about in old sweat pants and tees, let your trip to Dubai be an opportunity to revolutionise your wardrobe with the L'Couture Elemental Lounge Collection. Each comfortable and graceful piece in this interchangeable selection can be dressed up or down depending on your mood or activity. Made with smooth and flowing fabric, some textured with ribs and towelling touches, the collection comes in an inviting mix of natural browns, creams and sweet nougat. Additions to your wardrobe could include the Rib Tank in luxurious cotton rib with added stretch for shape retention and comfort; it would work well with a poplin shirt and jeans for a smart-casual look. Or match it with the chic Wide Leg Pant in a viscose blend. There's also the must-have Terry Romper, an ultra-soft playsuit. The Elemental Lounge collection is perfect for hanging out with friends for brunch or working from home.


Also Read: From Mezze Platters To 17-Course Indian Menu: Feast Your Way Through Dubai